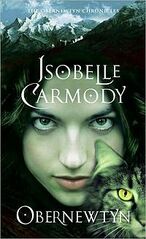 This is about the book. For other uses, see Obernewtyn (disambiguation).
Obernewtyn is the first novel in the Obernewtyn Chronicles series by Australian author Isobelle Carmody.
Publication
Edit
Obernewtyn was first published in 1987 by Puffinbooks as a paperback. However Isobelle Carmody began work on it at the young age of 14.
Blurb/Synopsis
Edit
In a world struggling back from the brink of apocalypse, life is harsh. But for Elspeth Gordie, born with enhanced mental abilities that would see her sterilised or burned if discovered, it is also dangerous. There is only survival by secrecy, and so she determines never to use her forbidden powers. But it is as if they have their own imperative, and their use inevitably brings her to the attention of the totalitarian Council that rules the Land. At last her worst fears are realised, and she is discovered and taken to the infamous Obernewtyn. However, it doesn't take her too long to realise that there may be others concealing secrets at obernewtyn.